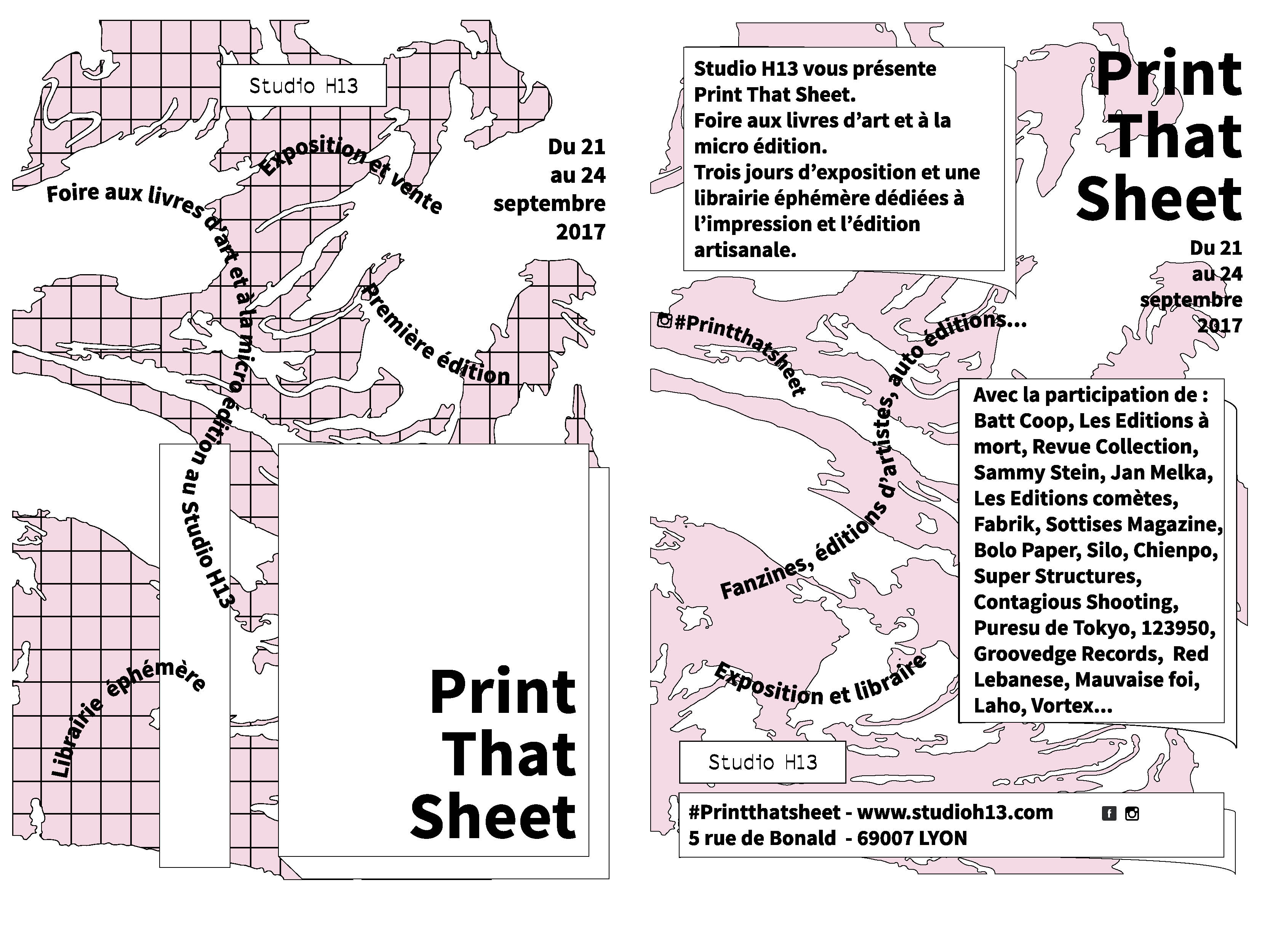 Print That Sheet – 1st edition
Lyon art book Fair
September 21st to 24th at Studio H13.
Studio H13 presents Print That Sheet.
Trhee days of art book fair dedicated to small productions, fanzines and other artisanal books.
Transmorfed in bookshop for the week, the gallery guests internationnal publishing houses and artists to show their works.
"No Martyr" exhibition co produced with Galerie P38 (Fr – Paris) will featured thousands of punk live show posters of San Frnsisco 1970′ to 90's.
Featuring Batt COOP (Bookshop / Fr – Paris) and:
Les éditions A Mort (Lyon – Fr)
BOLO Paper (It)
Puresu de Tokyo (Tokyo – Jap)
Contagious Shooting (Bueno Aires – Arg)
Chienpo Logique (Lyon – Fr)
Arnaud Laffond / Digital artist (Lyon – Fr)
Red Lebanese (Paris – Fr)
La Gâche (Lyon – Fr)
la revue collection (Paris – Fr)
Sottises (Lton – Fr)
Meta907 (Saint Etienne/Lyon – Fr)
Everest (Limoges – Fr)
SILO (Cannes-et-Clairan – Fr)
Jan Melka (Paris – Fr)
Sammy Stein (Paris – Fr)
Les éditions comète (Lyon – Fr)
Super-Structure (Bruxelles – Bel)
Mauvaise Foi (Lyon – Fr)
Impresison de merde (Lyon – Fr)
Franck Rausch (Berlin – All)
Industrie950 – (Sète – Fr)
TIP TOP PRINT (Saint Etienne – Fr)
Saint Molotov (On the road)
Antwan Horfee (Paris – Fr)
Microlab (Saint Brice-Courcelles – Fr)
Steven Vainberg (chicago – Usa)
Hector Mosko (Lyon – Fr)
Laurie Franck (Zurich – Sui)
Vortex (Paris – Fr)
Croatan Edition (Paris – Fr)